Burn-in testing ensures the reliability of PCB boards and components under specified stresses and loads. Burn-in testing detects early failures.
Burn-in testing is one of the methods of quality testing for PCBs and PCB assemblies. It is designed to detect early failures and determine load capacity. Burn-in testing can cause damage to the part under test.
JHYPCB is a PCB manufacturing and assembly company that provides complete quality assurance for all our products. One of our main quality assurance procedures is the burn-in test. Inspection and testing of all manufactured printed circuit boards is a significant part of our process. Whether that is part of a manufacturing contract or not, we make sure that all PCBs meet the necessary standards. Before we ship out all packaged PCBs to the customer, we make sure that they are getting what they have paid for. We conduct a holistic set of inspection and testing procedures. We make sure that we are shipping out a fully functional and properly assembled circuit board. To ensure that we achieve this, we usually conduct the famous burn-in testing. The burn-in test is one of the most important tests that we perform on our boards. This is an essential test that can save us a lot of trouble, money, and time.
About our burn-in testing
Faucibus vestibulum mi adipiscing phasellus sagittis fringilla potenti volutpat quam elit fermentum, viverra faucibus ante fringilla.
JHYPCB is a manufacturer and supplier of custom-quality PCBs for various industries. We carry out one of the most comprehensive burn-in tests in the Chinese PCB manufacturer sector. This is why many local and overseas manufacturers trust and rely on us to deliver the best quality. We conduct burn-in tests on our PCB components to establish their load capacity and detect early failures. We do this by powering up the electronics at high temperatures which is usually at the maximum required capacity. We continuously conduct this process for between 48 and 168 hours. The goal here is to expose any hidden defects which the test conditions might have triggered.
These defects are known as infant mortalities. They are not good for any business. JHYPCB makes sure to get rid of these defects from all our PCBs. Electronics have life cycles. Many of them usually fail the most at the early stages of this life cycle. This failure rate usually levels out at the mid-stages of this life cycle. It then increases once more towards the end stages of the life cycle. Any PCB that has this type of infant mortality failure will cause a lot of disruptions and damages during operation. If used in medical or military equipment, it could cause a potentially severe failure.
Our burn-in testing procedure is used to minimize the possible cases of infant mortality failures. It does this by triggering these failure cases to reveal themselves. This then results in the shipping of PCBs to the original equipment manufacturers (OEMs) for more effective electronics. We then collect enough useful data from the testing procedure. The data that we collect is usually used by our engineers to understand the causative factors behind these defects. We can then modify our design to enhance its build-up before conducting other rounds of tests.
JHYPCB – Putting the needs of the customer first
JHYPCB is one of the few reliable PCB assembly companies in China that follows the specified parameters of our customers during tests. As a contract manufacturer, we put the electronics of all our customers through pre-determined burn-in testing. We make sure that we follow all specified parameters as requested by our customers. We make sure not to subject the electronics to excess stress than what they are rated for. This is done to stop us from depleting the lifespan of the PCB. If our burn-in tests do not yield any substantial defective cases within the first 48 hours, we usually limit the testing procedure. This is done to avoid stressing good PCBs since they are reliable and non-defective.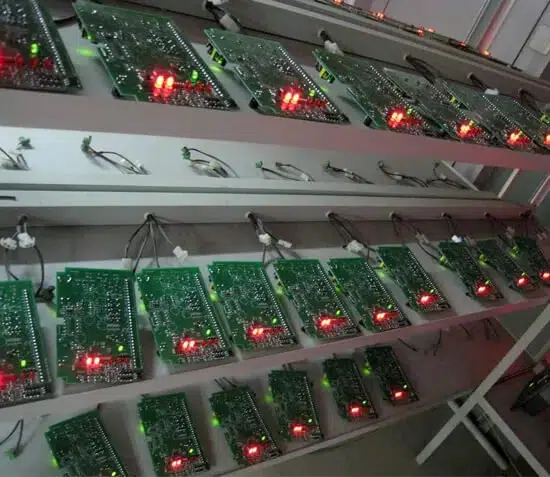 JHYPCB – Proactive quality-control tests and inspections to guarantee product reliability and durability
At JHYPCB, our tests and inspections are used to validate the durability and serviceability of all our PCBs. The burn-in test is one of the best ways that we can prove to our OEM partners that their electronics will be reliable and durable. Our burn-in tests help us eliminate infant mortalities. In commercial terms, our burn-in procedures are used to reduce the number of defective PCBs that makes it to the market. The tests also improve the average lifespan of PCBs.
However, while it may be a reliable procedure, the burn-in test isn't the only testing procedure that we use. As a contract manufacturer for many electronics and OEM companies, we also have an additional inspection and testing procedures. You can depend on JHYPCB for the use of further testing, inspection, and validation procedures like:
These are conclusive test procedures that make sure that if our PCBs get to the field, they will perform as expected. As PCBs that have been designed and manufactured by a top-notch manufacturer, they will be just as functional and reliable as how they were manufactured.
About JingHongYi PCB (HK) Co., Limited
JingHongYi PCB (HK) Co., Limited is a professional manufacturer of printed circuit boards. We are a total PCB manufacturing and assembly company that is based in China. When it comes to the manufacture and supply of customized PCBs for various industries, you can depend on JHYPCB. We cater to different industries like Aerospace, Medical, Engineering, Military, Agriculture, Electronics, Mechanical and Automotive, and many more. We are a reliable and trusted manufacturer of the best PCBs in China. Our PCB assembly facility is one of the best in China as it comes with a world-class quality control/assurance department to ensure that high standards and customer requirements are met all the time. Our PCB assembly has the following benefits:
Quick turnaround production time: When it comes to the most reputable and professional quick turn PCB assembly company in China, you can rely on JHYPCB. The company provides a prototype PCB assembly within between 24 and 72 hours. It also features low and medium volume assembly services within 3 weeks.
Simplify your business operation: JHYPCB have a team of skillful engineers that are specialized in handling complex PCB assembly processes. With our services, there is no need to work with multiple vendors and suppliers. We cut off the middleman from your operations. With JHYPCB, you are talking directly to the manufacturer.