PCB Manufacturing Services
High Tg PCB, High Temperature PCB Manufacturer - JHYPCB
High Tg PCB is a printed circuit board made of unique materials that can withstand high temperatures. A normal PCB FR4-Tg is 130-140 degrees, the medium Tg is greater than 150-160 degrees, and high Tg is greater than 170 degrees.
High Tg is another name for a high-temperature PCB, meaning printed circuit boards are designed to face up to high-temperature extremes. A circuit board is defined as high Tg if its glass transition temperature (Tg) exceeds 150 degrees Celsius. FR-4 high Tg printed circuit boards contain PCB material for high-temperature situations, so you'll figure them even under hot temperature conditions. Typical PCB materials for top temperature may include NP-175TL, ITEQ-IT-180A, ISOLA 370HR, Shengyi S1000-2, and plenty of others.
In recent years the demand for high Tg printed circuit boards has been increased. The Tg refers to a glass transition temperature, and it's indeed a crucial property of any epoxy. It's the temperature where the polymer transitions from a tough grassy material to a soft, rubbery material. The worth of TG is probably going to possess an adverse effect on its ability to function. Standard printed circuit boards have glass transition temperatures within the value of 140oC, and they can sustain a temperature of 110oC. Indifferently, it cannot sustain extreme temperature processes in automobiles, industrial processes, or hot temperature electric device. In these processes, FR-4 PCB provides the best solution.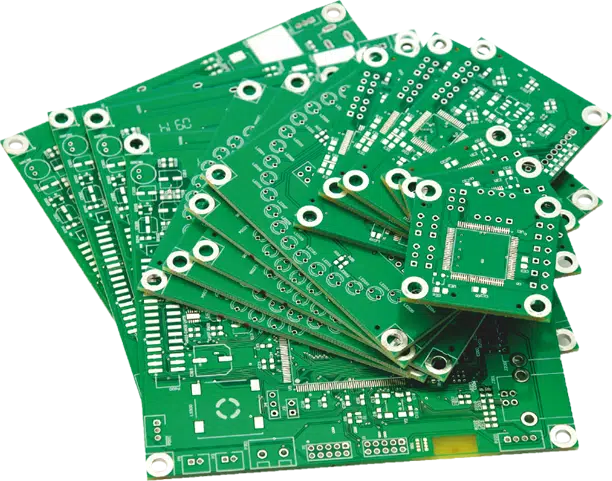 Therefore, we can define a High Tg printed circuit board as a board with a glass transition temperature on top of 150 degrees Centigrade. In applications where printed circuit boards are experiencing a thermal load 25 degrees below the transition temperature. One feature of the high Tg printed circuit boards needed the lead-free solder to flow. The Tg value of the printed circuit board material sets the upper boundary, the which the matrix of the resin decomposes and subsequent melting occurs. Thus, Tg isn't the most value of operational temperature, but it's the endurance limit of the printed circuit board material in terms of temperature.
High Quality High Tg Fr4 PCB
Properties of High Tg PCB
High Tg Fr4 PCB can be widely used and is closely related to its unique manufacturing materials and properties.
Advantages of High Tg PCB
Here are some advantages of High Tg PCB:
Higher stability
It'll automatically improve the warmth resistance, chemical resistance, and moisture resistance, still as stability of the device if increasing the Tg of a PCB substrate.
Bear high power density designs
High Tg printed circuit board is going to be an honest solution for warmth management if the device has a high-power density with quite a high heat generation rate. It can do by employing a larger printed circuit board to vary the planning and power requirements of a tool when reducing the warmth generation of an ordinary board, what's more, it can also use the high Tg printed circuit board.
Ideal for multilayer & HDI PCBs
There'll cause high levels of warmth dissipation because multilayer & HDI PCBs are more compact and have dense circuits. So high Tg printed circuit boards are often used for the multilayer & HDI PCBs so it can ensure reliability in PCB fabrication. Multi-layer printed circuit boards have complex and dense electronic circuits. With more electronic components placed in a confined space, the warmth generation is much quite standard printed circuit boards. So, a good thanks to tackle this problem is to use substrate fabricated from High-Tg material.
Applications of Metal Core PCB
If there's a better power density in electronic products and warmth generation will tend to disturb the sink or other parts of the products, so a high Tg printed circuit board is the best solution. What's more, you'll be able to find that Tg PCBs are applied in electronic industries, which may operate in relatively high temperatures as high Tg PCBs are more and more popular in recent years. So, we serve customers from different industries by providing high Tg PCBs with heat resistance that meets the stress of customers' specifications in a quick time interval. So that they are some application examples as follows:
Gateway
Rfid
Inverter
Antenna
WIFI Booster
Contract Manufacturing Services
Low-Cost Plc
Embedded Systems Development
Embedded Computer Systems
Ac Power Supplies
High-TG PCB Advanced Circuits Specification
The glass transition temperature of printed circuit board mentioned as "Tg", indicates the purpose at which the PCB material will begin to remodel. If the operating temperature exceeds the designated Tg value, the board will begin to alter from a solid to a liquid state, which is probably going to possess an adverse effect on its ability to function.
Standard printed circuit boards are manufactured with materials offering a TG value of 140°C, which may withstand an operating temperate of 110°C. While this could not be suitable for extreme-temperature processes that are commonplace in applications like automotive, industrial, or high-temperature electronics. In these situations, a PCB made up of FR-4 material can often provide the most effective solution.
Explored more PCB fabrication services
Are you looking for High-temperature PCB, High Tg PCB manufacturer, and factory for your electronics projects? JHYPCB is a High-temperature PCB supplier in China. You can send your High Tg PCB design files to sales@pcbjhy.com.