Stencil For SMT PCB Assembly
PCB Stencil, SMT Stencil, Laser Stencil
What is PCB stencil or SMT stencil? The purpose of an SMT stencil is to transfer solder paste to a bare PCB board. The PCB stencil is made of stainless steel by laser cutting.
Undisputed Laser Cut SMT Stencil
At JingHongYi PCB (HK) Co., Limited, we have managed to render some of the best PCB stencil, SMT stencil, Solder paste stencil or Laser stencil over the years for clients. This has made us to stand out amongst other companies not just in China but around the world. When it comes to stencil technology, it is fair to conclude that we are one of the leaders of PCB stencil manufacturer right now. This is due to how we have managed to provide laser cut stencils of the highest quality to the industry of surface mount technology.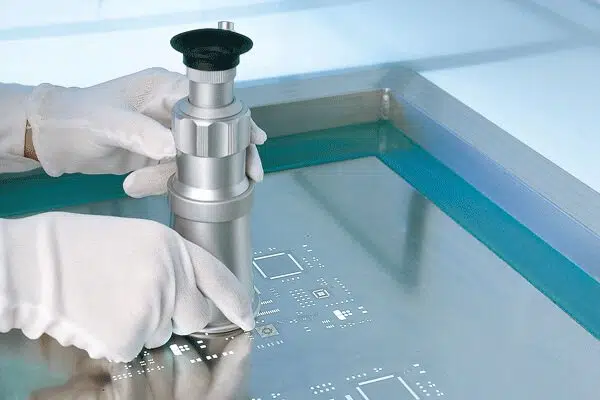 We have the most advanced and sophisticated manufacturing facilities to ensure you are getting value for money. In other words, we always offer PCB stencil making services that are of exceptional quality to customers like you.
Our Impeccable Record In Laser SMT Stencil
Are you looking for a reliable PCB stencil manufacturer?
Over the years, JingHongYi PCB (HK) Co., Limited has been offering knowledge and experience to customers who want different kinds of projects related to Laser Cut SMT Stencil. This is due to how we have been able to manufacture thousands of stencils for customers. Also, we have been able to help out in the design as well as manufacture processes. There is no doubting the fact that solder paste stencil plays an important role in PCB assembly. You don't have to bother about any of these again. This is because can handle all the aspects of Laser Cut SMT Stencil.
What Our SMT Stencil Can Offer?
When trying to hire a manufacturer for SMT Stencil, there are some important factors you should always be on the lookout for. One of these is whether such services can offer the right benefits that are capable of meeting your expectations. At JingHongYi PCB (HK) Co., Limited, be rest assured that you will experience lots of benefits by hiring our SMT stencil making services.
For instance, our laser cutting process will ensure that excess foil materials are removed. In comparison to chemical etching, laser cut stencils seem to be faster. Apart from being known for tapered slots, this process doesn't include any filming tool.
One of the reasons why you need to consider choosing us for laser cut SMT stencil is that we have managed to come up with a process that isn't just effective but also 100% environmental-friendly.
JHYPCB isn't one of those ambitions companies that render desperate and questionable PCB assembly services. In a bid to ensure our beloved planet is preserved, we will ensure a laser cutting process that eco-friendly is adopted. Therefore, you don't have to bother about your safety or the health of your workers/customers after the project has been completed and delivered.
It is worthy of note to point out that our laser cut manufacturing technology is one of the best around. When it comes to position accuracy and aperture tolerance, no other company comes close. Our technology also ensures that paste volume disposition is optimized. Its ultrafine pitch capability is state-of-the-art. Its laser cut apertures also tends to exhibit minimal burring. This is perfect for the release of solder paste.
Our process also ensures that an aperture wall which is smoother is produced. This can help in improving how solder paste is released. Whether you want stainless steel smt stencil, quick-turn rework stencils, prototype smt stencils, frameless smt stencils, or framed smt stencils, be rest assured that we are capable of providing such.
It should be noted that each of the above options has its advantages. Therefore, it is important to choose your preferred option carefully before contacting our team. For instance, frameless smt stencils are known to be less expensive. This is due to how they can prove to be perfect when it comes to reducing requirements for storage space. In the case of prototype smt stencils, the time for prototype PCB assembly is reduced significantly. Also, the tedious process of soldering prototype circuit boards manually will be eliminated.
In case there is anything you are finding hard to understand about our laser cut SMT stencil, feel free to contact our support team. Everything will be explained in detail to help you make the right decisions.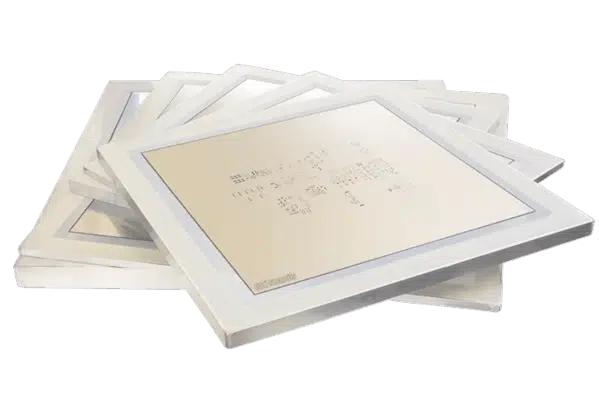 Our SMT Stencil Process Explained
In order to make you have confidence in our services, it is important to note that our process of laser cut SMT stencil is comprehensive. This is why JingHongYi PCB (HK) Co., Limited is considered as the best company that can handle projects like these. All you have to do is explain to us about your preferred design and such will be perfectly executed.
Also, we have all the required resources and equipment to handle emergency projects. That is to say, our team can take care of laser cut SMT stencils that require shorter lead time. We have successfully executed projects of such nature for various customers in the past.
At JHYPCB, we are fully committed towards ensuring that you get nothing but the best laser cut smt stencils. This will be based on your specification and requirements. Based on such, we don't accept stencils that are returned. This is because they have been manufactured specifically based on your instructions.
Due to the fact that customers may not want them, we do not accept that they are returned. Therefore, it is important to ensure you evaluate your needs carefully before hiring our services. This is because once the final products (smt stencils) are ready, they cannot be returned. As said above, feel free to contact us for any kind of assistance. Our experts are always available to answer all of your questions related to laser cut smt stencils.
Affordable Laser Cut SMT Stencils
Do you have limited budget and still want Laser Cut SMT Stencils that are up to standard? Are you aware that not every company can make such become a reality? JingHongYi PCB (HK) Co., is existing to ensure you get access to smt stencils that are of premium quality. The best part is that these are available to ridiculous prices. You don't have to put a hole in your pocket to get SMT stencils that are perfect for your on-going projects.
There are many tiny holes on the PCB stencil, a special mold for SMT, which is used to transfer the exact amount of solder paste to the pads of the bare circuit board.
What material is the PCB stencil made of?
PCB stencil made of stainless steel foil.
What are the types of PCB stencils?
SMT stencil can be divided into Laser Stencil, E.P. Stencil, E.F. Stencil, Step Stencil, Bonding Stencil, Ni.P. Stencil, Etch Stencil, etc.
SMT stencil can be divided into framed SMT stencil and frameless SMT stencil according to whether it has a frame or not.
What are the production processes of SMT stencils?
JHYPCB can provide you with three SMT stencil manufacturing processes: laser cutting, chemical etching, and electroforming.
What informations do I need to make a laser stencil?
Every PCB stencil is different, so you need to provide the following information:
Production requirements
SMT Stencil Use: Paste Solder Stencil or red Glue stencil
Polishing process: Polishing or electrolytic polishing
PCB file(GERBER、AUTOCAD、PCB、GBX.etc)
Fabrication Process:Laser-cut.etc
SMT Stencil Size
Frame or Frameless
SMT Stencil Thickness(The thickness of the steel sheet is determined by the smallest PITCH of the parts on the PCB)
Lead or Lead-free
…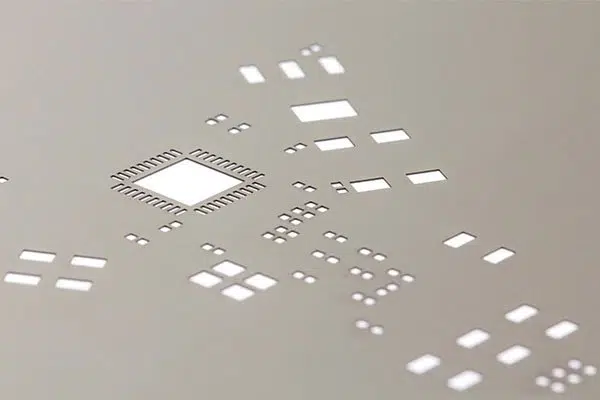 Recommended Assembly Services