PCB Manufacturing .Services
Quick Turn PCB Fabrication Service
PCB Quick Turn Service Specialized in Rapid PCB Prototyping, Quick Turn PCB Fabrication and assembly.JHYPCB can meet your most compressed time cycles and time.
Quick Turn PCB Manufacturer In China
Getting electronic products to plug depends on rapid manufacturing capabilities. a fast turn PCB is critical during the prototype, pre-production, and full production phases of any product containing a printed circuit board. Inconsistent timelines can result in product delays and rushed testing, ultimately leading to a poorer quality product. JHYPCB offers quick-turn PCBs with quality in mind. during this post, we glance at quick turn PCB manufacturing throughout each stage of the method and supply realistic timelines for various sizes of orders.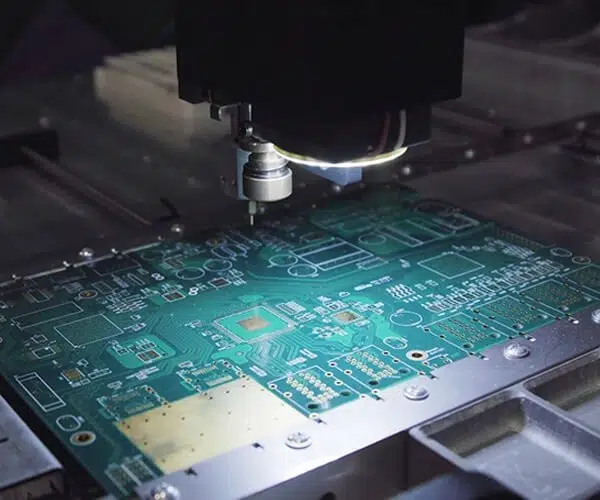 Not all quick-turn PCB requests are identical, and JHYPCB has many years of PCB fabrication experience to confirm that our customers get what they require after they want it. But quickly getting your electronic product promoted is not just an issue of getting a PCB that's "good enough" quickly, it is also about producing that product at scale throughout the remainder of the method. We have over decades of experience in delivering custom quick turn PCBs which are way earlier than the curve. This can be made possible both on account of the state-of-the-art machinery that we've got deployed yet because of the expertise that we've on board. It's for these very reasons that we will offer quality products with low intervals.
Quick Turn PCB Fabrication Service
JHYPCB is a professional fast-turn PCB manufacturer in China that provides high-quality, quick-turn PCB fabrication service at an affordable price and on-time delivery.
What is Considered a Quick Turn for PCBs?
Every quick-turn PCB demand is different in terms of technology, delivery prerequisites, and volume of components required. If you wish for a tiny low quantity of 2-layer PCBs there are many Internet-based companies that will get you these parts very quickly and extremely inexpensively. However, here at JHYPCB, we target more complex PCBs that need 100% absolute quality and consistency throughout the whole lifetime of the event and into production. Truly understanding the technology that we are producing and therefore the physical requirements to manufacture that specific PCB will make sure that you get a delivery date that you just can plan on. some common definitions:
There are many alternative forms of PCB Prototypes. Every project starts with quickly getting a PCB so you test out your concept. Many times, the PCB designer isn't even finished with the look once they submit Gerber data for production and should use jumpers on the board after they get onto fast and cheap work.
However, if you're producing prototypes for testing on form, fit, and performance and wish to grasp how all of the electronics will work with one another that's a special level of quality that's needed in your PCB. This is often once you have to work along with your PCB fabricator in order that we are able to perform our rigorous design rule checks to confirm that your prototypes are of the identical quality as your production.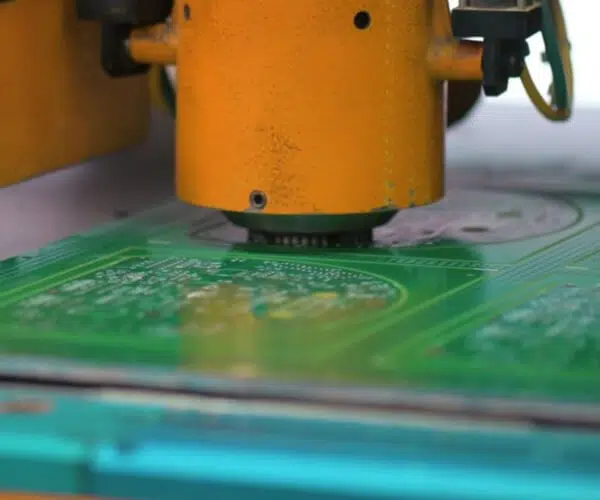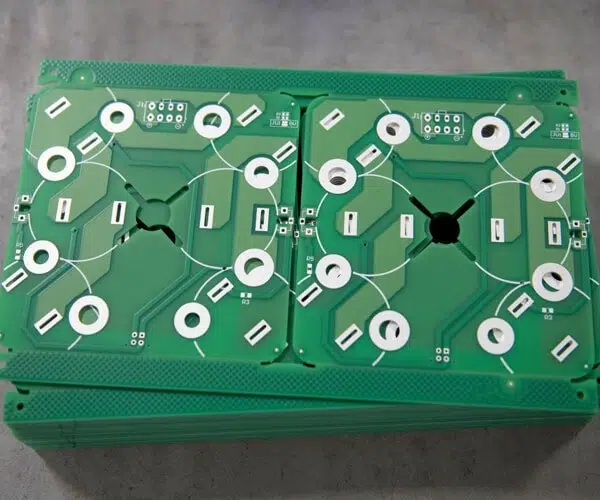 2. Pre-Production or Beta Run PCBs
In this case, this can be when a customer goes to check out their production process or send units into the sector, or need many units for reliability testing. This can be usually anywhere from 100 to many thousand pieces that the PCB fabricator has to have the capacity to run these production panels. Too often what happens when a customer goes from prototype to pre-production is that they run into issues as many things tend to alter once you work with different companies. Laminate, multilayer stack-ups, drill sizes, and plenty of others can cause issues for patrons.
In JHYPCB's case, we seamlessly move from prototype into pre-production as all of our factories use the identical materials and therefore the same Gerber data that we developed for the primary run-in order that you'll see no change within the product. Delivery times are anywhere from 2 days up to our standard delivery of 20 days.
3. Production Quick-Turn PCBs
We usually see clients require higher volume quick-turns for emergency demands from buyers or when a supplier can't deliver. This has become more common recently given the difficulty in transporting products from Asian countries. However, if you select the proper PCB fabrication partner, this may not be a controversy. At JHYPCB, we have the facilities that have the capacity and also the experience of manufacturing high-volume PCBs in terse lead times, and since we've got already CAM'd the Gerber data, you may see no delay in production getting started.
Along with that, JHYPCB encompasses a longstanding relationship with UPS, DHL, and FedEx at our hub in a metropolis. This suggests that we've got an avid and guaranteed space on their aircraft daily, even during the height season so our products don't get delayed in transit. Thereupon Furthermore, all of our packages are pre-cleared through China Customs before they leave port, which means if there is an issue, our 24/7 logistics team within China can catch it on resolve it before the package lands in China. Since everything goes through our port hub, we ship large volumes daily, which keeps our costs very low, and we can pass that along to our customers.
Learn more about our shipping methods guide.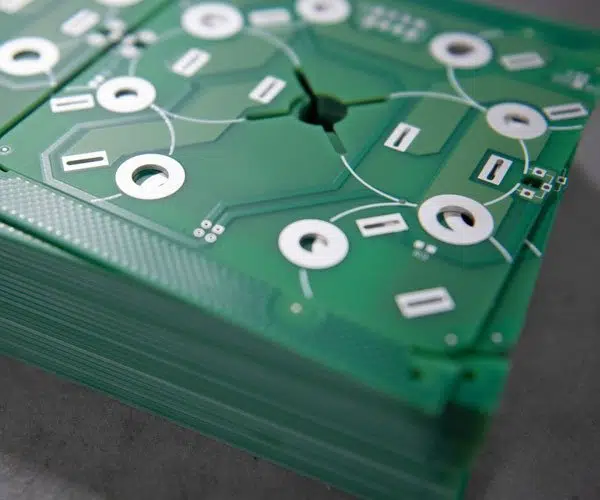 What to Look for in Quick Turn PCB Manufacturing?
Timing is critical when you're within the marketplace for quick-turn PCB manufacturing. However, speed isn't everything – quality is simply as crucial during each phase of the manufacturing process, from prototyping to production. At JHYPCB, we offer speed without sacrificing quality. Our manufacturing facilities and state-of-the-art production capabilities provide you with aerospace quality at standard prices. From simple prototypes to finish production runs, we get the duty done on your timeline with a 100% on-time guarantee.
Benefits of Quick Turn PCB Fabrication
The most significant advantage of quick work time is that you can just get to the market with no delay. In turn, this is often a source of great advantage, especially since you're likely to be operating in a highly competitive marketplace. We make sure that your go-to-market plans don't just take a beating on account of the non-availability of PCB boards. You'll undergo your product launch and marketing plan seamlessly with high-quality boards in situ. Here are some benefits of quick turn printed circuit board fabrication:
PCB Prototypes
Quick turn PCBs are particularly of importance for prototypes where you wish for a fast and accurate idea of how your final product will perform. Quick turnaround times are available in handy, in determining the efficacy of the merchandise before investing in an exceedingly large production run. The very fact that any improvement or tweaking may be made well in time, is one more perk!
Standard Production Run
When you are searching for large production runs, the one thing that's of essence is the time of delivery. Quick turn PCBs make sure that there aren't any delays, making it possible for device manufacturers to succeed in their end consumers quickly. additionally, shorter manufacturing times with standard SOPs also can lead to optimization of costs, which could be a significant source of competitive advantage.
Short Turnaround Time
Because the name implies, clients get their printed circuit boards assembled in an exceedingly faster time, even in complex circuits. A good manufacturer tries to make sure its clients are satisfied with job delivery time. Clients lose trust when manufacturers over promise and under deliver, thereby reducing their gait to promote.
Cost Saving
Quick turn PCB assembly package enables manufacturers to reduce production expenses and manufacturing time. The method also provides cost-effective, functional testing with advanced equipment.
Access to a Variety of Board Selection
Because manufacturers are dead set to satisfy their client's requests, they provide different boards to pick from. It allows the designer to do various boards for his or her ideas. The manufacturer offers both high-end boards and rigid boards at competitive prices.
JHYPCB has provided high-quality custom PCB, rapid PCB prototyping service and quick turn PCB fabrication service to electronic engineers, PCB assembly plants, PCB designers, and scientific researchers from over the world in the past decades. We understand the importance of delivering on our promises and have an industry-leading track record of on-time deliveries.
We welcome and encourage new customers to submit inquiries using our PCB quotation page. Of course, you can also directly email us your requirements. We believe that you will love our perfect quick-turn PCB fabrication service once you have tried it.
We look forward to quoting your PCB and winning your business.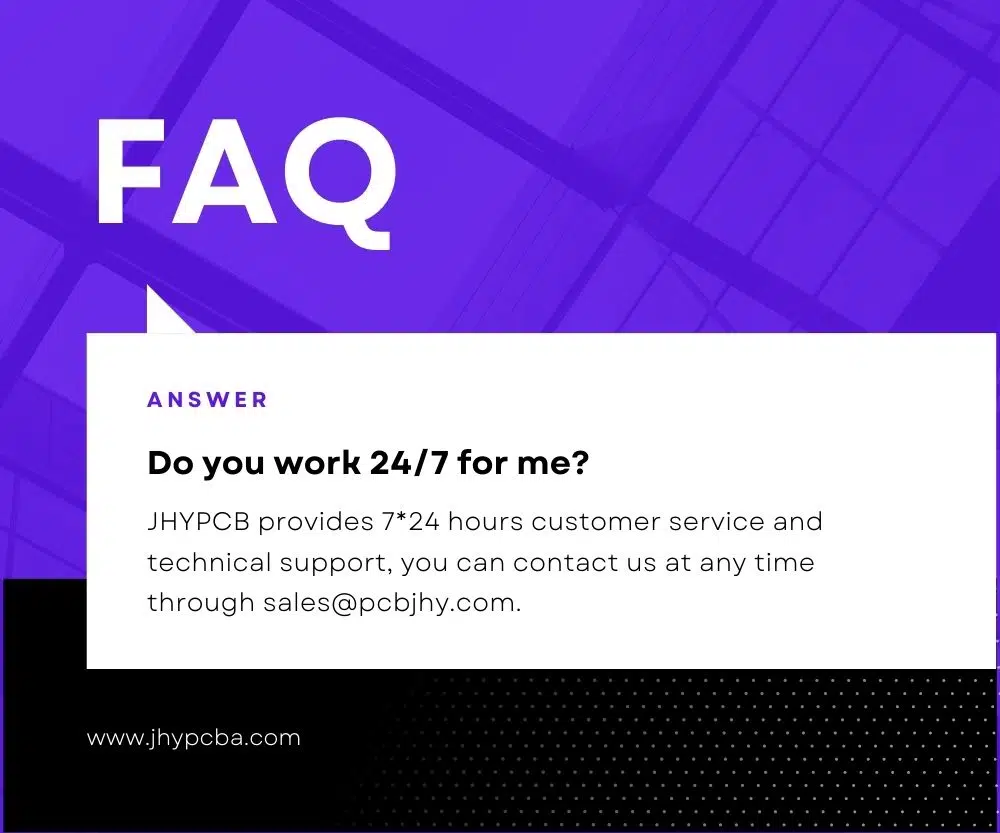 Frequently Asked Questions.