Lead-free PCB Assembly Service
JHYPCB provides comprehensive PCB assembly services, including lead-free PCB assembly services compliant with RoHS and WEEE directives.
Lead-Free PCB Assembly Services Meeting the Regulations of RoHS and WEEE Directives
Whenever you are trying to hire a company to handle PCB assembly services, there is one question that must never be ignored. This is whether or not such is actually lead free. This is very important to ensure you are not violating the necessary government rules and regulations. A few years back, lead was one component or element that was present in most PCB assembly processes. Many companies that were into the rendering of PCB assembly services never saw anything wrong with such a process. However, all of these have changed significantly in recent times.
In 2003, restrictions got placed by European Union on substances that were considered as "hazardous". This led to the birth of RoHS 1 with the deadline for use of such substances fixed for 2nd of July 2006. Today, most customers or clients of companies that render PCB assembly services are requesting for lead-free PCBs. Are you searching for the right company that is capable of handling such project? Do you know that such is our area of expertise at JingHongYi PCB (HK) Co., Limited?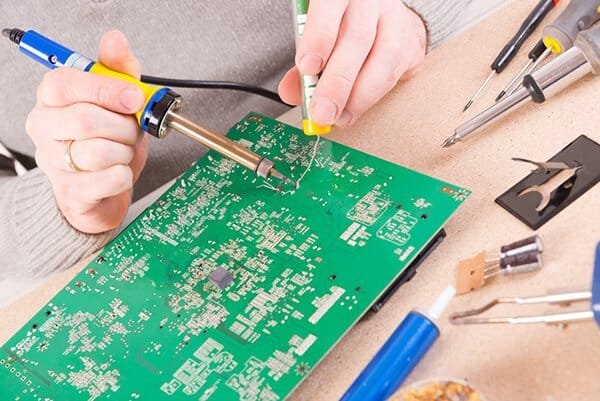 There are numerous reasons why the best PCB assembly companies follow lead-free rules and regulations. These could be:
Protection of workers
Protection of end-users that will be using the applications which lead-free PCBs are included in
Protecting the natural environment
The truth is that we are not just a company that is into rendering of any kind of PCB assembling. Instead, we ensure that such services align with the various government stipulations. This has been an integral part of our mission.
Why Choose Lead-Free PCB Assembly Service?
JHYPCB has a comprehensive lead-free PCB assembly solution, including solder selection, paste selection, flux selection, component evaluation, and quality inspection.
Applications That Require Lead-Free PCB Assembly Services
In today's world, there are numerous applications which make use of lead-free printed circuit boards. These could be telecommunications equipment, lighting equipment, household appliances, IT equipment, consumer equipment, electronic & electrical equipment, toys, leisure, & sports equipment, monitoring & control instruments.
Do you manufacture any of the above products or applications? There is no need being worried about where to get the best lead free PCB assembly services. This is because at JHYPCB, we have always proven to be professionals in such areas. You only need to contact us and explain how you want the PCBs assembled. Be rest assured that the projects will be carried out based on your specifications and needs.
Our Trained PCB Assembly Experts
In a bid to ensure you get value for money, we have hired some of the most experienced hands in the PCB assembly industry. They have very vast understanding as well as experience about printed circuit boards. Therefore, you can be rest assured that no stone will be left unturned when it comes to manufacturing lead-free PCBs. You will be impressed with what they can offer.
One of the reasons why we still remain amongst the best PCB assembly companies is our understanding of trends within the industry. Our PCB assembly professionals have the most updated knowledge and skills about how to assemble and manufacture lead free circuit boards. They will handle the process of procuring raw materials to ensure everything is completely lead-free. In fact, materials that are capable of posing danger to the environment and human life will be filtered out during the procurement stage.
Based on this, it is fair to conclude that we are existing to handle all of the technicalities involved when it comes to assembling lead-free circuit boards. All you have to do is give your instructions and the project will be executed in line with such. Let our team of experts handle all the technical aspects that have to do with manufacturing lead-free PCBs.
Our Tested And Trusted PCB Assembly Services
Apart from having the best experts who understand a lot about lead free PCB assembly, there are other reasons why our services should be trusted. For instance, we have successfully worked with other clients for decades. A proof that these PCBs are lead-free is that they have limited amount of polybrominated diphenyl ethers, polybrominated biphenyls, hexavalent chromium, cadmium, and mercury. Be rest assured that all of the processed raw materials that we make use of meet the various restrictions pertaining to RoHS PCBs.
For the purpose of quality assurance, we also carry different testing procedures. This is to ensure your circuit boards are free from errors or problems and working as expected. Some of our testing procedures are X-Ray Inspection, Burn-In Testing, Automated Optical Inspection, and In-Circuit Testing.
Based on these, it is therefore recommended that you contact our support team today in order to get started. We do not only build high performance circuit boards. Also, these will not contain any lead.
Lead Free PCB Assembly Capabilities
Lead Free PCB Assembly Service
JHYPCB's lead-free PCB assembly solutions include the following service items:
Lead Free PCB Manufacturing Service
At JHYPCB, we use lead-free process to manufacture PCB boards, including laminates. Surface finish, etc.:
Lead Free Rigid PCB
Lead Free Flexible PCB
Lead Free Rigid-flex PCB
Lead Free Hot Air Solder Leveling (LF-HASL)
Immersion Gold (ENIG)
Immersion Silver
Immersion Tin
Organic Solderability Preservatives (OSP)
Learn more our PCB fabrication services
What is Lead Free PCB Assembly?
Lead-free PCB assembly means that all processes of PCB board manufacturing are lead-free, including PCB materials, components, assembly, soldering, etc. To comply with the RoHS directive, JHYPCB's lead-free PCB assembly does not contain compounds such as lead listed in the directive.
What is Lead-Free PCB Assembly flow?
The lead-free PCB assembly process is as follows:
Lead-free Analysis
Inspection
BOM, Surface Finish and Components Analysis
Applying SMT Stencil and Solder Paste
Placement of Components
Thru Hole and Manual Solder
Placing PCB in the Reflow Oven
Testing and Inspection
Packaging
Are you responsible for BOM compliance?
No, it is your responsibility to ensure your BOM is RoHS compliant unless you ask your contract manufacturer to check the material for compliance, but this may incur costs.
How to ensure components are lead-free?
You can make sure your components are lead-free in three ways:
1. Please clearly state that you need lead-free components (i.e., RoHS compliant and a process compatible with either wave or reflow)
2. Self-supplied lead-free components to contract manufacturers for PCB assembly
3. Plan and optimize the timing of the transition to lead-free products
What are the lead-free solder alternatives to SnPb?
There are several families of alloys commercially available as lead-free soldering:
Reflow soldering: SnAgCu, SnAgCuBi, SnAg, SnAgBi, SnZnBi, SnIn (the bismuth-containing solders are more suitable for low-temperature soldering)
Wave Soldering: SnAgCu, SnCu, SnCu(Ni 0.1%), SnCuX, where X is the small fraction of elements claimed to increase performance.
What is lead-free? What is the safety threshold?
Lead-free means that the lead content must be reduced to a level below 1000ppm (<0.1%), and it means that electronic manufacturing must comply with lead-free assembly process requirements. "Electronic lead-free" means that the content of six toxic and harmful materials, including lead must be controlled within 1000ppm.
Recommended PCB Assembly Services