PCB Manufacturing Services
FR4 Material PCB Fabrication Service
What are FR4 material or FR4 PCB? FR-4 material is widely used as a printed circuit board material. But FR4 is not the certain name of the material. FR4 PCB is a printed circuit board using FR-4 laminate.
FR4 is the commonest grade dielectric material utilized in circuit board fabrication. This material is included in single-layer, double-layer, and multi-layered circuit boards. FR stands for flame retardant, and also the number '4' indicates woven glass-reinforced epoxy. The characteristics of FR4 vary significantly reckoning on the manufacturer, although it's commonly known for its mechanical strength and water resistance. This material acts as an insulator in printed circuit boards by isolating adjoining copper planes while also providing all-around computerized power. To place it first, FR4 PCBs are the printed circuit boards using FR4 laminates. Most PCBs are made from FR4.
FR4 isn't the certain name of the fabric. It's rather the grade of the fabric. It directs to the fourth stage of retardant material. The composition of the fabric constitutes fibers of glass the synthetic resin. This material has anti-flame properties. The composition of the fabric is per the quality UL94V-0. This quality of laminate material has high power and execution. Moreover, it's an honest ratio between strength and weight. This material has no capability for water absorption, so it's good electrical insulating properties.
Here are some types of FR-4 PCB: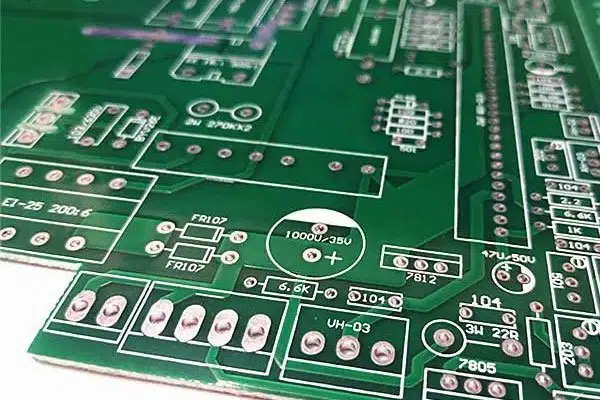 The Fr4 single-sided printed circuit boards are fabricated from epoxy glue PCB having copper foil on one side, its components are pasted on one side. reproval their size we generally have a length of 100mm, a width of 70mm, and a height of 1.5mm. With time the event of recent technologies which include the hard process of production with new machinery, the merchandise becomes dearer, but single-sided PCB boards are very advanced and affordable.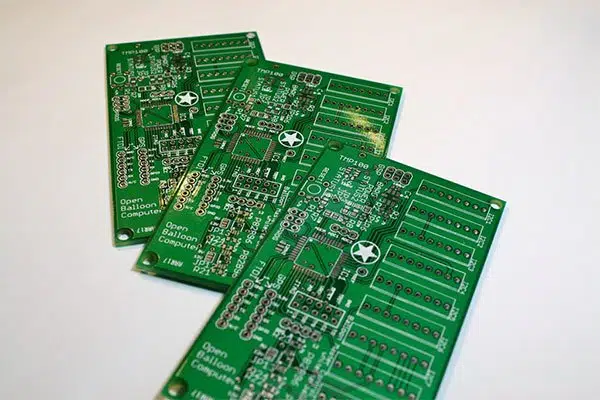 The Fr4 single-sided printed circuit boards are also fabricated from synthetic resin PCB with copper foil on one side, but its components are pasted on two sides, giving the trail of traces to cross one another. These boards contain copper for conduction. In double-sided Fr4, PCB components are pasted on either side of PCB boards, giving the trail of traces to cross one another.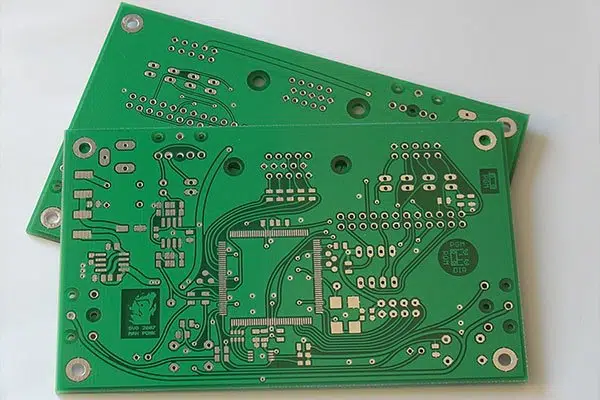 The multisided board has quite two layers. It contains three layers of fabric for conduction. That's pasted within the center of the materials. The core material is laminated together under air mass and hot temperature to supply multilayer PCB boards. Components are pasted on either side of PCB boards.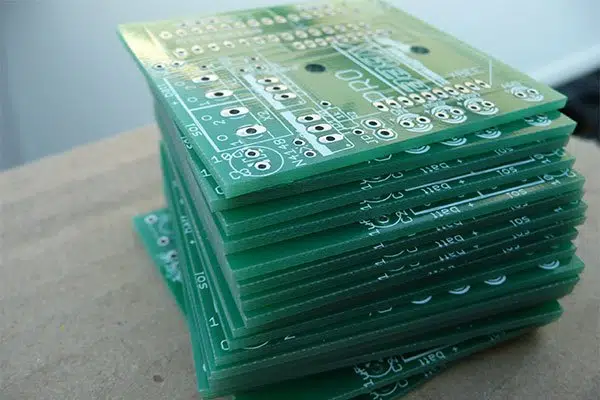 In this kind of Fr4 circuit board, the core materials used are only Fr, in order that is why this is often called a rigid fr4 printed circuit board. There are not any other materials or impurities added to that it's a pure circuit, that's why it's rigid for the full circuit board.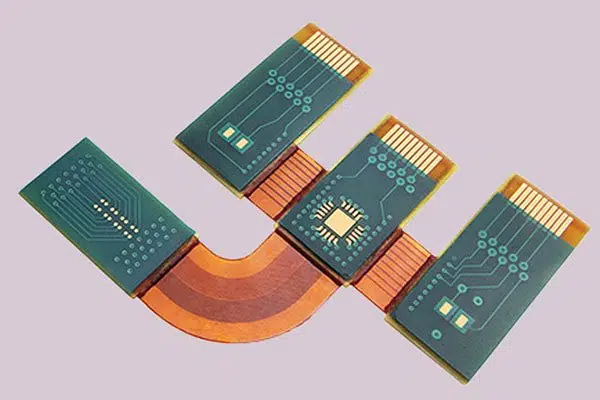 In this board style, the core material is further rigid and flexible, called rigid-flex Fr4 PCB boards. The flex is thanks to circuit flexibility. We used thin boards because it's more flexible and more prone to heat. During soldering, it is often bent to create a desirable angle.
FR4 PCB Custom Order with No Quantity Limit
All the above-mentioned FR4 PCBs are custom-made at JHYPCB, a sophisticated PCB manufacturer. Working with this FR4 PCB supplier, you'll enjoy extremely high-quality PCB fabrication and PCB assembly services, free samples, free design for manufacturing and excellence, and free tech support. These advantages make JHYPCB an ideal choice to have FR4 PCB made and mounted.
What is FR-4 Substrate Material?
FR4, also written as FR-4, is both a reputation and a regular rating. The name is applied to the fiberglass-reinforced epoxy-laminated sheets utilized in printed circuit board manufacturing. However, the name also functions as a grade want to rate epoxy laminate sheets. The designation essentially indicates the bottom quality of a laminate sheet, meaning a spread of sheet materials and styles constitutes the FR4 rating. The "FR" within the name stands for flame retardant, while the 4 differentiates the fabric from others of the identical class.
The material widely brought up as FR4 could be a composite structure. the foremost basic layer of the fabric is fiberglass woven into a skinny, cloth-like sheet. The fiberglass provides FR4 its required structural strength. This innermost fiberglass layer is then surrounded and bound by a flame-resistant synthetic resin. This resin is what gives the fabric rigidity, among its other physical properties.
FR4 sheets are widely famous between electrical engineers and architects as a printed circuit board base material. The low cost and flexibility of the fabric, additionally with its wealth of beneficial physical properties, account for that popularity. FR4 material sheets are electrical insulators with high dielectric solidity. They also feature a high strength-to-weight ratio and are lightweight and proof against moisture. Add this to their comparative temperature opposition, and FR4 material can act well in most environmental situations.


Factors to Consider When Choosing FR-4 PCB
Thickness of Sheet
Basically, the thickness depends on your project and what you want to make; the thinnest boards are widely used for printed circuit boards designed. Thin PCB boards reduce stress. Ideally, we require Fr4 thickness almost from 1 to three inches.
Impedance matching
In electrical and equipment, impedance or frequency matching is incredibly important for low-frequency or high-frequency printed circuit boards. Paying more attention to those points would help the boards to derive and run safely. It can also tell us about the capacitance in multi-sided boards.
Spacing
Space-saving is an important factor when designing FR4 printed circuit boards. For USB connectors and Bluetooth accessories, spacing is extremely important. Especially we used the thinnest printed circuit boards for preparing.
Flexibility
The thinner printed circuit board is better and more elastic than the thicker. JHYPCB used thin boards as compared to thick ones because of their flexibility. While using Fr4, if the substrate used is extremely thin and therefore the area or dimensions of Fr4 PCB are more, it'd be an excellent risk. In electrical and electronic devices thin Fr4 PCB boards have the flexibility to scale back stress. Thin boards are more flexible and more susceptible to heat. During soldering, it will be bending to create a desirable angle.
Weight
Mostly FR4 PCB thickness decides its weight; for tiny or lighter products, it might be lightweight and contrariwise.
Thermal conduction
Thermal conduction could be a vital term to grasp while choosing Fr4 PCB. What's more, it depends on the temperature. For the temperature identification we should always study the thermal coefficient of the dielectric medium of dielectric constant, Fr4 has excellent heat resistance, which is why it's very talked-about.
Compatibility with the Components
Fr4 is beneficial to provide different forms of printed circuit boards, and its thickness and spacing tell us about the devices or components to be utilized in Fr4 PCB. Like using THT sorts devices are separate from other devices, and thus this device needs a more delicate printed circuit board design.
Tips to Select the Right FR-4 Material
When choosing FR4 material, it's critical to think about the thickness and other important characteristics of the laminate.
Avoid using lighter materials for printed circuit boards with troughs.
Select a high-performance FR4 laminate if the working temperature of the application overextends150 °C. These materials have better thermal performance and low expansion rates compared to plain FR4 while retaining identical manufacturability. Isola 370HR is a sample of high-performance FR4 material.
Select a dielectric material that gives the same dielectric constant (Dk) over a good range of frequencies. The parasitic capacitance between a trace and its reference conductor, or between a trace and the other nearby conductors, is tormented by dielectric constant variations.
How is FR-4 Used in PCBs?
These qualities make FR4 a perfect default substrate material for quality PCB manufacturing processes. When used appropriately, these properties also can form the foundations of high-quality and low-cost PCBs. Within a PCB, FR4 forms the first insulating backbone. This is often the bottom upon which the manufacturing company builds the circuit. This copper forms the circuits within the finished product and will cover one or each side, reckoning on the look of the board.
Complex PCBs may use over one side or maybe layer the circuit board to provide more sophisticated circuits. From here, the circuits are drawn and etched out before being covered with a solder mask layer, preparing the board for the ultimate silkscreen layer and also the subsequent soldering process.
How to Select FR-4 Thickness?
When ordering a laminate board for a PCB project, the designer or engineer must specify the FR4 thickness. This can be measured in inch-based units, like the thousandth of an in., or thou, or millimeters, looking at which is most appropriate for the setting. The thickness of a sheet of FR4 ranges widely counting on the wants of the project, but it tends to range from ten thou to a few inches. While board thickness might not seem to be a big consider the planning of a PCB, in reality, it's a necessary feature.
Explore more PCB Manufacturing Service