PCB Assembly Quality Control
Final Quality Control - FQC
JHYPCB is a company that has some of the finest and most recommended Final Quality Control of PCB assembly in China. This is the final quality check that we carry out before we package the PCBs.
First-class PCBA Quality Control System
A lot of people usually feel that quality control is something that we do at the end of the production process before we ship out our PCBs. This is not a standard way to work. Companies that only perform quality control at the end of their operations should be penalized for unethical practices. For us, the quality control process is an integral aspect of our production operations. We are always performing quality control every step of the way. This is why we have been able to improve our process and product deliveries over the years. Continuous quality control procedures have enabled us to improve our processes. JHYPCB is a reputable manufacturer and PCB assembly company that executes its quality control procedures throughout the production process. We are always checking for the following:
Design quality,
Material standards
Manufacturing processes, and
Logistics and delivery
Our quality control processes have been able to help us positively impact our production processes. The FQC at the end of the production operation is used to complement all the initial checks and tests.
PCB Assembly Quality Control
Final Quality Control by JHYPCB
JingHongYi PCB (HK) Co., Limited is a company that has some of the finest and most recommended Final Quality Control of  PCB assembly in China. This is the final quality check that we carry out before we package the PCBs. It means that we do not package or box any PCBs without performing the FQC. At this phase, our quality control will usually focus on performance inspection and appearance inspection. This means that we shall conduct various tests on the PCBs such as gloss, colour, burrs, roughness, evidence of scratches, chemical or physical properties, operation control, mechanical/electrical properties, etc.
At this phase, we can easily detect any faulty product. Our final quality control (FQC) will be used to detect products that do not conform to specifications and standards. We also use this test to discover any low-quality processes within our production line. It is also used to detect any incomplete production process. Therefore, products are taken back to the affected processes. This helps us to fix the affected products and the processes. On recalibration and correction of defective processes and products, the inspection is conducted once more. Possible defects are then identified through FQC again.
This is the whole routine for our Final Quality Control (FQC). It is a process that is used to make sure that our PCB boards satisfy all their delivery requirements. The products have to meet all shipping specifications otherwise they will not be approved and cleared to leave the production facility. The final test is also used to ensure that all PCBs meet the requirements of the customer (fitness for use). Therefore, the FQC helps us to detect various degrees of product defects. At this phase, we can easily detect minor, major, and serious levels of product defects.
JingHongYi PCB (HK) Co., Limited is a specialized manufacturer and supplier of high-quality PCB components. We cater to many organizations across various industries. We are your trusted partner in the assembly and supply of remarkable PCB products. All our PCBs undergo various quality control procedures to meet standard requirements. We also ensure that all our PCBs meet the various specifications of our clients. So far, we have been able to achieve 100 per cent satisfaction with most of our projects. Our success is down to our non-tolerance of substandard quality. This is why we have been certified and approved by various quality regulatory authorities in China. From our manufacturing facilities to our supply network, we have ensured that standardized processes be followed to be able to maintain and control quality. No other PCB manufacturer in China pays more attention to quality than we do. This is why we have invested a significant amount of our operating budget in building the most perfect and transparent quality assurance department in the Chinese PCB manufacturing and assembly industry. JHYPCB offers the following features:
Quick turn production: Due to our accelerated workflow, we can help you meet tight deadlines and quick turnaround times. We have invested in a multipurpose facility that produces prototype PCB assembly in the shortest time possible.
Make your business easier: JHYPCB comes with a team of professional engineers that can handle complicated assembly processes. Also, we have saved you the hassle of working with numerous suppliers to streamline the process. Also, we have made sure that there are no communication and language barriers.
Cost savings: JHYPCB understands the economics of PCB production. We have various strategies that help the client to save a lot of money in the long run. We offer unbeatable cost-effectiveness that you can never get from anywhere else.
On-time delivery: We understand how important you need your PCBs. This is why we work to ensure that we meet your strict deadlines. Our expertise and professionalism mean that we are never late with our shipments.
24/7 support: We support all our customers and clients on a 24/7 basis. This means that you can get accurate and helpful answers to your queries and problems. At JHYPCB, you are sure of getting 100% quality service.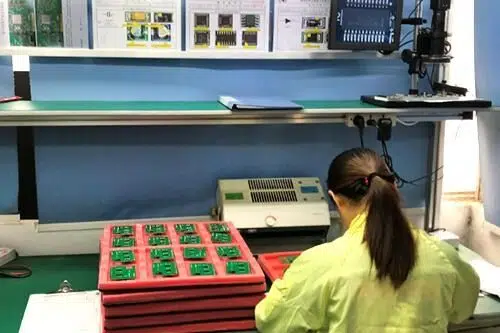 JHYPCB – Spreading Remarkable Manufacturing And Product Assembly Expertise All Over The World
Superior PCB Assembly Services
JingHongYi PCB (HK) Co., Limited is a very popular and remarkable company for PCB assembly and manufacture. We are a company that provides smart and innovative PCB hardware solutions for the electronic industry and other business sectors. Apart from providing innovative PCB products, we have also had a remarkable quality control process. We provide custom quality control services for our clients. We take out the time to ensure that we fully understand the requirements of your products. We will then strategize to streamline the manufacturing processes. We will then tailor a specific quality control strategy based on your specific requirements.
Our quality control processes are executed within acceptable thresholds. This means that products are expected to be within these thresholds. Any product that falls outside the limits is considered defective. This strict approach to quality is one of the reasons many manufacturers and organizations trust and rely on JHYPCB for quality PCBs.
Explore our PCB Assembly Services