In order to understand everything about PCB assembly, it is crucial you know the kind of materials used in producing them. Anything short of this can make you sign up with the wrong company that will bring about frustration. There is no need racking your brains though. This is because JingHongYi PCB (HK) Co., Limited is the right place where you can learn everything about PCB assembly materials. The benefit of having such knowledge is that you will be fully equipped when it comes to making the right decisions. This can influence the quality of your application.
Untold Facts About PCB Assembly Materials
There is no doubting the fact that the quality of your circuit boards depends on the materials that have been used in its manufacturing and assembly. In fact, it doesn't just determine whether such board is going to perform optimally. Also, it can influence the applications that such board will be suitable for. Without the right materials, it will be very difficult to get a PCB assembly services that is of high quality.
Do you want to know the best part about all of these? It is the fact that JingHongYi PCB (HK) Co., Limited is existing to ensure you have access to PCBs that have been manufactured with nothing but the best materials. Apart from being able to work with different reputable companies that are into the field of manufacturing different applications, we have always had the practice of using premium materials.
When it comes to PCB assembly, there are several factors that have to be taken into consideration to ensure you are getting the perfect finished product. At JHYPCB, we always look at the features which available materials possess. This helps our experts in reaching a decision on whether they will be perfect for your project or not. Some of what we consider are:
Mechanical properties
Chemical properties
Electrical properties
Thermal properties
And more
This is part of our approach towards choosing the right materials for your PCB assembly and manufacturing. Our primary goal entails ensuring that selected materials are compatible with your preferred application and design. Is your PCB project looking technical and complicated? Are you feeling such will be difficult to execute? There is no need to worry because we have very vast understanding about PCB materials. We have handled different kinds of PCB assembly projects in the past involving the use of both complex and simple materials.
The best part is it that our goal is always to deliver beyond your expectations. It is our belief that with the perfect selection of materials, you can get access to PCBs that are performance-driven.
Our Materials Used In PCB Assembly?
Are you still doubting our PCB assembly and manufacturing process? Do you know that this is a tested and proven process that can deliver results which meet your expectations? There is no need panicking or thinking too much. This is because we make use of the best materials all the time. It is true that there are numerous companies which are into wholesale PCB assembly and manufacturing. However, you need to understand that very few of these companies understand how to use premium materials for such process.
Generally speaking, PCBs usually contain 4 layers. These will then get combined into one layer. The most popular PCB material is metal. This could be in form of iron, aluminum and copper. In most cases, companies that render PCB assembly services use them (metals) as conductive layers. This is why majority of printed circuit boards are usually "copper clad". It is important to note that at JingHongYi PCB (HK) Co., Limited, we select the best metals that will support SMT or surface mount technology components.
Another popular circuit board material is Teflon or PTFE. Some of the characteristics of this material is that it is flexible, strong and lightweight. One of the reasons it is used in applications is its high degree of tolerance. For instance, once exposed to high temperature, it doesn't experience too much expansion. One of its major features is being flame-resistant.
FR-4 is not only flame retardant, this material is also water-resistant. Simply put, it can't be damaged by water. Furthermore, materials like these are usually glass fiber epoxy laminates. A resin binder is where it tends to get its qualities from. These materials are characterized by extremely high dielectric strength. They are also temperature resistant. All of these confirm their high level of durability. It is worthy of note to point out that that regardless of the surrounding or environment, FR-4 is known for optimum performance.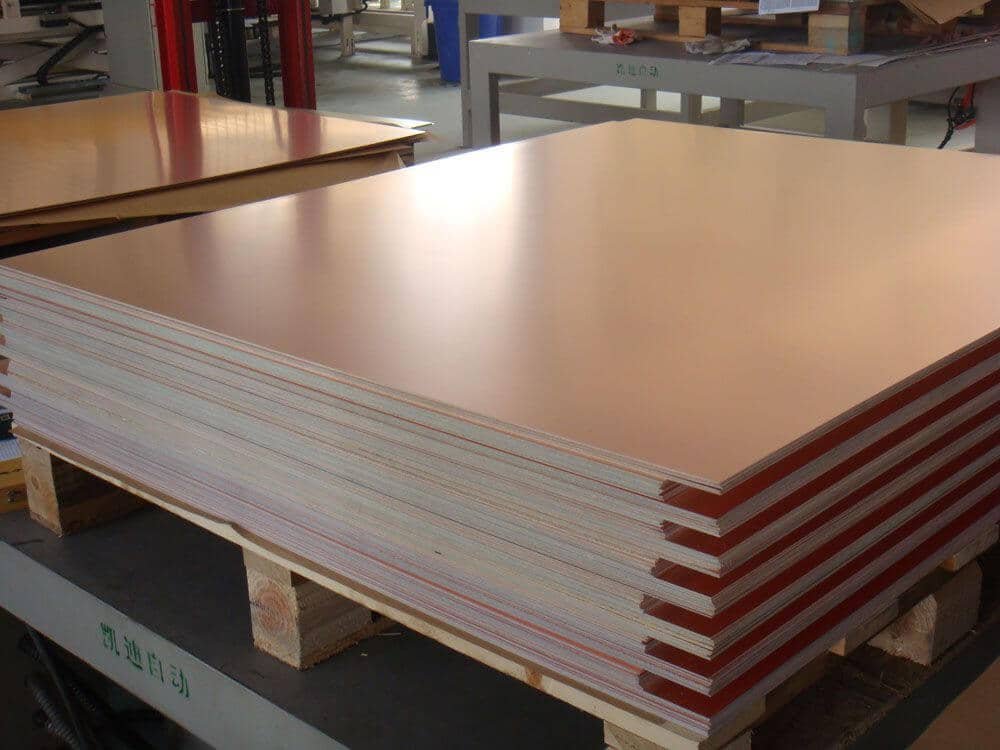 FR-3 has grown in terms of popularity over the years. This material is highly versatile, affordable and efficient. If you are looking for a way to manufacture low-budget applications or appliances, these materials are recommended. Please note that when it comes to multilayer PCBs, they aren't the best options.
When it comes to rigid as well as flexible circuit boards, polyimide can prove to be a perfect option. Although it is usually expensive, this PCB material is great for sensors as well as displays that are flexible. They can be found in devices like computers, tablets and other modern gadgets. This is due to how they are usually stable in high temperature. It can work perfectly in temperatures that are more than 2500C.
Best PCB Materials For Special Projects
Special projects in this case are those that usually have high frequencies. There is no need being worried about the best materials to use. This is because JHYPCB has got you covered. There are some high-quality materials that we usually recommend to customers for such projects. These could be materials like Rogers Corporation, Arlon, High Tg, and Pyralux.
Our experts tend to have very vast level of understanding about their levels of compatibility, temperature resistant, electrical features, thermal features, chemical and mechanical features. If you are handling any special project and would want us to make some expert recommendations, feel free to contact us today.
Hire Our Wholesale PCB Assembly And Manufacturing
Do you want us to handle all the entire processes of material procurement? It doesn't really matter as we are capable of helping out in such regards. Our experts will get the best materials available in the market. These have uncompromising quality and will ensure optimum performance of your circuit board.
Given our wholesale PCB assembly and manufacturing services, there is no doubting the fact that you will always get nothing but the best. For more details, try to contact us today.