PCB Manufacturing Services
Rapid PCB Prototyping is a set of methods to form a prototype of your product very quickly. Rapid PCB prototyping focuses on producing prototypes as quickly as possible to assist speed up the planning and testing processes.
The Necessity of Rapid PCB Prototyping
Technological improvements need continuous invention, and new ideas require new iterations. Developers know that every new idea must be designed, built, and tested to see how to improve the look and function for their needs further. Most developers utilize prototyping for this purpose.
While prototyping is necessary for the look process, PCB designers face a particular challenge in this area. Rapid PCB prototyping may be a significant bottleneck within the design process. Many PCB manufacturers don't take small orders; if they are doing, the PCB prototype takes an extended time to complete. Not only does this long-time interval curtail the creative process, but it also slows down the time to plug. One solution to the current challenge is rapid PCB prototyping.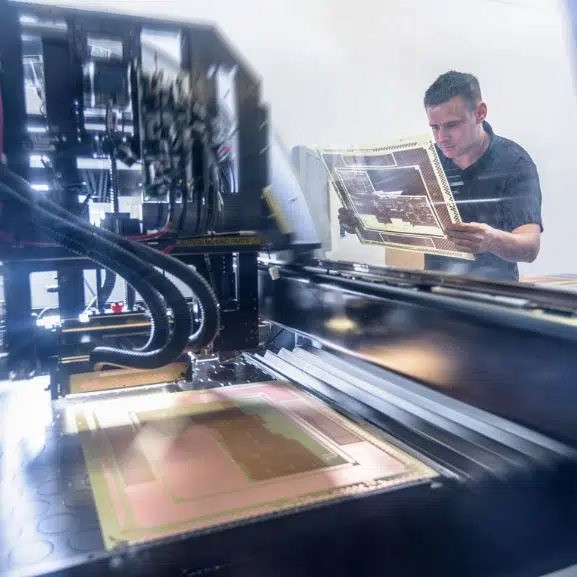 PCB Prototype Fabrication Service
A PCB prototype is an early version of a product's design. the first purpose of a prototype is for testing, ensuring that the planning meets the functional needs of the project. This design might not represent the ultimate style of the merchandise but instead focuses on the functional design.
Rapid PCB prototyping focuses on producing prototypes as quickly as possible to assist speed up the planning and testing processes. Generally, prototyping creates smaller amounts of printed circuit boards, between 5 to 100 units, though some prototyping services offer a wider range. Additionally, prototypes are typically more limited in material construction. These limits allow prototype fabrication services to attain fast turnarounds of 1 to 5 business days so designers can perform as many test rounds as required with as many prototypes as they require to attain a high-quality final product.
What is Rapid PCB Prototyping?
Rapid PCB Prototyping is a set of methods to form a prototype of your product very quickly. Once complete, you'll be able to use this to validate your final product. An additive manufacturing approach is required, as critical a subtractive which might involve substantial rework. 3D printing technology allows designers to make a product replica by adding layers of fabric.
"Rapid PCB prototyping is the pre-production of printed circuit boards before mass production"
Benefits of Rapid PCB Prototyping
Rapid printed circuit prototype fabrication services are useful for the design of electronic devices. Companies using rapid PCB prototyping can enjoy the subsequent benefits.
These benefits of PCB rapid prototyping are valuable for the industry, allowing designers to attain greater innovation in shorter timeframes compared to their competitors.
The foremost significant advantage of rapid PCB prototyping is speed. Rapid PCB prototyping services deliver fast turnarounds, decreasing the fabrication time from weeks to hours. This speed of fabrication supports the creative design process by minimizing wait times, which, in turn, reduces the look and testing phase of PCB development.
Complex designs will carry greater costs and longer lead times. The speed of your production processes will be vastly improved. you'll be able to reduce development time from weeks to minutes.
Prototypes allow designers to look at and test every circuit design and performance accurately. Prototyping delivers a functional replica of the PCB design to the tester in order that they will get an accurate representation of how the ultimate product will work. Accurate boards help designers determine the way to change the PCB layout for optimal functionality.
Faster prototype fabrication allows designers to be far more flexible with regard to modifications. By receiving prototypes more quickly, designers can spend longer verifying and assessing the functionality of every iteration and making adjustments.
Rapid prototype services produce small quantities of prototype boards for testing, so your company doesn't must waste money on dozens of prototype boards you don't need.
The goal of each designer is to realize high-quality PCB products to satisfy their customers. Rapid PCB prototyping helps achieve this with more thorough testing and style modification while minimizing turnaround times. Additionally, customers can see the planning process in real-time with physical boards to watch.
PCB prototypes enable companies to scale back their costs by allowing designers to check boards and find problems before the assembly run. Rapid prototyping further reduces costs by accelerating the testing and verification processes, which reduces manufacturing and style costs for every project.
Ability to figure with different materials
Materials will add up, layer by layer, and also the coupling prevents the board from constraining the circuits. These connections are borderline impossible given modern card technology. Additionally, 3D circuit card manufacturing only uses materials that are essential to production.
Testing of the merchandise
In-depth validation of the merchandise could be a major benefit to 3D PCB prototypes. By using this technology you'll be able to identify costly mistakes before they reach the assembly stage. Rapid prototyping allows you to detect mistakes and errors timely and make necessary amends in time. Because of reduced development time, designers have greater freedom to interrupt design for manufacturing rules that are inherent in subtractive PCB manufacturing processes.
A major advantage of the technology is its cost-optimization. 3D printers are getting way more affordable. It's not just restricted to large businesses. Rapid PCB prototyping is a big boon for startups that are managing limited budgets and want to showcase a minimum viable product to potential investors. With the fast realization of your product concept, PCB prototyping also gives you the liberty to fail faster. You've got the flexibility also to enhance your product before it goes sure final production.
JHYPCB is a rapid PCB prototyping specialist in China, providing quick turn PCB prototyping services.
Rapid PCB prototyping is efficacious for nearly any electronic design application. However, some industries benefit greatly from rapid prototyping in their development cycles a number of those industries and their rapid prototyping needs are described below:
Technology developers within the medical industry often use rapid PCB prototyping within the development cycle. PCBs within this field are utilized in implants, imaging devices, and lab equipment want to diagnose and treat diseases, so optimal functionality is critical. Prototyping allows designers to check the functionality of every PCB before it goes into production, ensuring the PCB functions. Rapid prototyping further improves results within this industry through faster and more thorough testing.
Nearly all modern cars are equipped with electronic smart systems, which are passed by PCBs. From safety features to temperature control, PCBs control it all, so it's critical that they work correctly. Prototypes ensure each PCB employed in an automotive design reliably meets all functional requirements before a full production run is underway.
Explore Rapid Prototyping PCB Assembly Services