Automated printed circuit board assembly equipment often has trouble working with smaller boards, leading to more frequent defects during the assembly process. to attenuate these defects and improve the throughput of the manufacturing process, many companies use a process called panelization, leading to a PCB panel. Board uniformity is the primary concern in any circuit board manufacturing project. The boards that are non-uniform are discarded because they're ineffectual to satisfy the requirements of an intended application. The assembly process for large and little remains identical, some changes are made during small PCB production to keep up their quality.
PCB panelization is performed during the assembly of small circuit boards to make sure uniformity. during this method, various small-sized circuit boards are pooled together to create an outsized panel. This helps manufacturers assemble multiple small PCBs simultaneously. Thus, manufacturers can improve their productivity, moreover, as ensure uniformity, and quality of circuit boards. The panelization technique is additionally referred to as an array format because multiple boards are kept together. PCB panelization permits creators to obtain high-quality boards in big volumes. This post discusses everything you wish to grasp about PCB panelization.
A PCB panel, also called a PCB array, could be a single board consisting of multiple individual boards. Once manufactured, the panel is then smashed apart or depanelized, into the single PCBs during the breakout procedure. The advantage of the printed circuit board panelization process may be a decrease in defects as automated assembly machines tend to encounter fewer problems during the assembly process. Additionally, panelization also reduces cost by improving throughput.
Successful PCB panelization requires multiple design specifications to figure properly, including considerations surrounding panelization methods. We'll detail these PCB panel methods and their specific requirements more thoroughly during this set of panelization guidelines.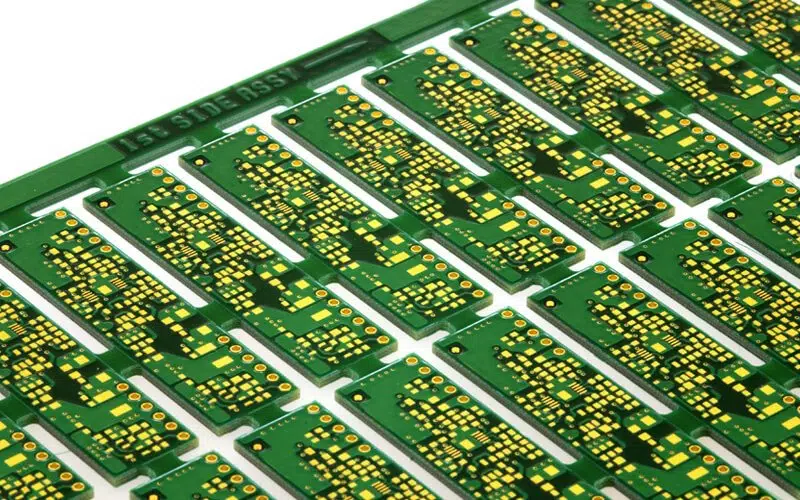 There are many panelization methods exist, each with its own advantages and disadvantages. The look of the boards on the panel and therefore the panel itself will often play an outsized role in which panelization method most closely fits the application. The foremost notable of those factors include:
These factors limit the alternatives available to anyone application. In fact, many assembly companies may use a mixture of methods on anyone project to make sure the structural integrity of the array while still mitigating issues during the breakout process.
There are three methods of panelization in use today, though only two are commonly practiced. They are:
V-Score and Tab Routing are the popular panelization methods for many applications. the foremost important thing for PCB designers is knowing which of the 2 methods is best for their application. The following step is to style their array for maximal strength and breakout success. We like better the V-groove panelization technique, when is possible, for its expertise and reduction in surface stress. Depaneling machines for this sort of array also are relatively inexpensive and cost-efficient. Even better, they're portable and need minimal maintenance. Though the strategy tends to end in rougher board edges, this can be rarely a priority for applications where V-groove panelization is employed.