PCB Assembly Testing and Inspection
PCB assembly testing and inspection can reduce processing risks. Manual Visual Inspection is one of the inspection methods. Manual Visual Inspection can be achieved at every step of the PCB assembly process.
PCBA Manual Visual Inspection
Manual visual Inspection from JHYPCB
Manual Visual Inspection is the simplest type of PCB inspection that we carry out in our production facility.
We have been able to invest in our quality assurance department to ensure that our Manual Visual Inspection (MVI) processes are optimized. For this type of test, the PCBs are checked thoroughly by a quality assurance worker. This means inspecting the PCBs either through magnification or with ordinary eyes. during the inspection process, the PCBs are compared to the specifications in the documents. This is to make sure that the final design meets all the specifications. During this process, the inspecting officer will also check for possible defaults. This inspection process helps us to spot any possible defect.
JHYPCB performs MVI almost with every step during the production process of the PCB, especially during the assembly process. We conduct this inspection with every board that is produced in our modern facility. Furthermore, as a part of our unique quality policy, we also perform other elaborate tests on the board.
During the MVI, the quality assurance staff will inspect almost all the parts of the PCB. They will be able to look for potential defects in this board. When it comes to JHYPCB, we have a peculiar MVI checklist. Our MVI checklist involves:
Validating the thickness of the boards for correctness. This also means verifying the surface roughness.
We also verify that the assembly dimensions are in agreement with the specifications. We also ensure that the dimensions for the electric connectors are correct.
We verify the clearness and integrity of the conductive patterns. We check for voids, burrs, open circuits, and solder bridging.
Verify the quality of the PCB surface, and also check for possible pinholes, scratches, dents, pits, and different other defects.
We ensure the verification of all right placing of the vias. We check that they have been punched correctly while ensuring that the diameters are in agreement with the specifications of the design. We also ensure that the PCBs are devoid of nodules or voids.
Our MVI quality procedure confirms and validates the brightness, roughness, and firmness of the pad plating. We also check for defects such as bulges.
We also assess the quality of the coating. We also inspect the colour of the plating flux. We check for its correct placement, firmness, and an even profile.
MVI from JingHongYi PCB (HK) Co., Limited: A cost-effective way to quality assurance in PCB assembly
When it comes to JHYPCB, we are known as the best company with the most reliable and trustworthy quality assurance departments. Thanks to our MVI procedures, we can guarantee 100% product satisfaction. Our MVI procedures usually have several benefits over every other inspection process. It is a very simple inspection process to carry out if you have trained and eligible quality assurance workers. JingHongYi PCB (HK) Co., Limited have been able to invest in its quality assurance department. This is why we can skillfully perform the MVI with lower costs. Our trained MVI inspectors do not have to conduct the procedure with any quality equipment or machine. Moreover, the MVI is very quick and can be conducted at any stage of the PCB production process.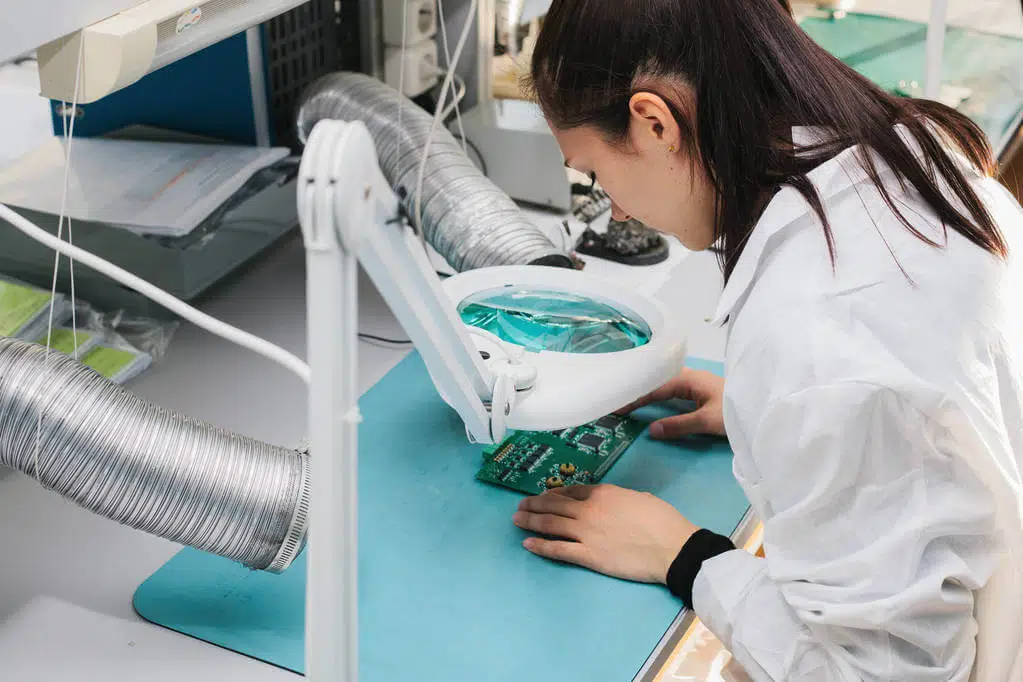 Conducting MVI at JingHongYi PCB (HK) Co., Limited: Using professional workers
MVI can be a very difficult routine for workers that are not trained properly. With trained staff members, you are sure of conducting the MVI correctly. This is why JHYPCB has invested in its quality assurance department. Our staff members have been trained and certified to carry out a wide spectrum of PCB tests including MVI. Our quality assurance workers always know what to find whenever they are conducting the MVI test. For us, all members of our quality assurance department have the necessary expertise, and we have been able to streamline our operations with the MVI. This is a highly beneficial technique that helps restore a certain level of confidence in our production facility. To enhance the reliability of our MVI procedures, it is conducted with other test and inspection criteria.
About JingHongYi PCB (HK) Co., Limited
JingHongYi PCB (HK) Co., Limited is a leading PCB manufacturing company that is based in China. JHYPCB is your best partner when it comes to the manufacture and assembly of printed circuit boards. We currently act as manufacturing and assembly partners to many original equipment manufacturers (OEMs) from various industries.
JHYPCB is a company that helps enhance the supply chain of its partners by providing a wide range of business support. We have an efficient and effective PCB assembly and manufacturing facility that supports a wide range of product manufacturers. Our services come with additional features like:
Rigorous Testing: JHYPCB is known for its wide spectrum of rigorous tests and inspections. We have invested in various testing and checking equipment to help validate our PCBs. Our manufacturing partners usually expect their shipments to have been verified by certain test and inspection procedures. This is why we subject all our PCBs to a rigorous collection of tests.
24/7 online support: In addition to our manufacturing expertise, we also work to support our customers. We offer 24/7 online support to all our customers as we handle their enquiries and queries. We respect all our customers well enough to respond immediately. We understand how crucial our responses are, therefore, we will ensure that you get all the answers you need from us.
Just in Time Delivery: We understand that many manufacturers are very keen on zero inventory. This is a way they have planned to streamline their production processes. JHYPCB is a professional company that offers a just-in-time delivery for all our partners. This means that you get your PCBs and other supplies whenever you need them.
Quality verified: At JHYPCB, we have been able to integrate a lot of tests and inspections to validate our standards. Our checks are used to guarantee that standards, requirements, specifications, and other requests are met. We ensure that we verify the quality of all the products that we ship out.