Mid-volume PCB Assembly Services
JHYPCB is one of China's excellent PCB assembly manufacturers, and mid-volume PCB assembly is one of our core capabilities. We can handle fast turn prototype PCB assembly, medium-volume PCB assembly, and high volume PCB assembly with low production cost.
Mid Volume PCB Assembly Manufacturer In China
Are you searching for a tested and proven company that can render Mid Volume PCB Assembly Services without any compromise? Do you know that most companies usually fall short in this aspect? There is absolutely no need to be worried since JingHongYi PCB (HK) Co., Limited is existing to meet all of your needs. For decades, one of our significant capabilities has been rendering the best of Mid Volume PCB Assembly Services to customers like you. All these years, we have managed to show undisputable competence when handling mid-volume orders related to the circuit board assembly.
Our Impressive PCB Assembly Records
It is one thing to hire the services of a company for PCB assembly. However, it is another thing for your expectations to be met. A reliable company needs to understand what mid-volume PCB assembly is all about, including the required materials & equipment needed. The problem is that not every company understands all of these like JHYPCB. Our approach to rendering the best mid-volume PCB assembly services is second to none. These are 100% tested and result-oriented to ensure you are getting value for money.
With us around, you do not need to search for any company that can help out in rendering PCB assembly-related services. It is worth noting that we aren't just into the rendering of mid-volume PCB assembly services. Also, we are a high and low-volume PCB assembly manufacturer.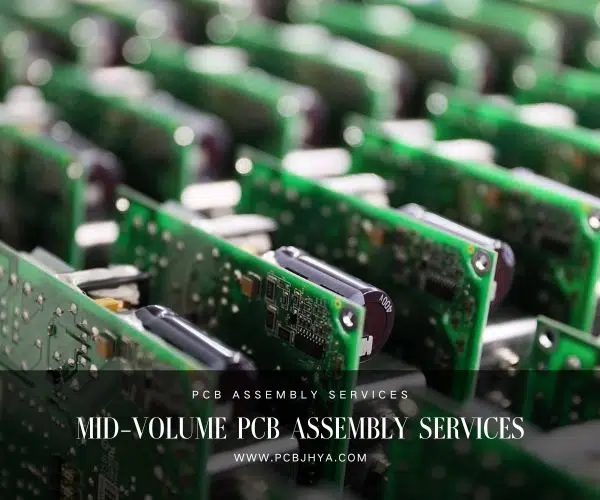 Why You Can Trust Us in PCB Assembly
The reason why we can provide medium-volume PCB assembly services to your satisfaction is that we have accumulated rich experience in the field of printed circuit board assembly, and we can easily complete simple to highly complex, prototype to volume orders.
It is true that there are numerous PCB assembly companies in Bangalore, China, the USA, and other parts of the world. However, our impeccable record in rendering uncompromised services speaks for itself. This is probably why we are recognized not only in China but also in other countries. Imagine the possibility or reality of working with a world-class PCB assembly company. This implies that we will be offering you nothing but high-quality PCB assembly services.
We pay attention to every detail. This could be during the process of PCB assembly, procuring of components/materials, and shipment. Do not forget that it will also be tested to ensure there are no errors. At JHYPCB, the opinion and recommendations of our clients are highly valuable. This is why we are going to be conducting the testing processes based on your specified method. Be rest assured that no faulty product will get through to you since everything will be checked.
Our Vast Level of Experience In PCB Assembly
When it comes to printed circuit boards assembly, there is something you need to understand. This is the fact that dealing with an inexperienced company can cost you more than imagined. For instance, you may end up manufacturing low-quality electronic products and appliances. The end result is that these could damage your business reputation.
This is why you need to sign up for our services at JHYPCB. We are a highly experienced company with the best team of professionals. When it comes to printed circuit boards assembly, they have seen it all over the years. In other words, they have handled the assembly process of different circuit boards. These could be from simple to the most complicated designs.
Our experience in the field of software and electronic design can hardly be disputed. This because we have won the heart of our clients with some breathtaking PCB assembly services. In fact, it is worthy of note to point out that every month, we render mid-volume printed circuit board assembly services in thousands of pieces.
Quality Assurance for PCB Assembly
You must be wondering what makes JHYPCB an outstanding company amongst others. For instance, we are a certified and licensed company. This means there are no cutting corners during the PCB assembly process. Our experts will adhere to all the best practices related to the circuit board assembly. This implies that the safest and most environmental-friendly approaches are going to be adopted.
You need a PCB assembly company that follows the rules. This will help in ensuring your project meets the expectations of end-users. There is absolutely no need to worry because JingHongYi PCB (HK) Co., Limited is capable of that. For instance, we have DFM (Design for Manufacturing) engineers. They will carry out a thorough evaluation on the design to ensure your project is 100% error-free. This process is usually carried out before PCB fabrication commences. Such is to ensure that design issues are resolved in the most effective manner.
Furthermore, the PCBs will be assessed for DFT (design for testing). The purpose of this is to ensure the mid-volume PCB assembly services is tailored specifically to meet your needs. Finally, we have a next-generation facility that supports a wide range of PCB assembly services. This means that whether you are searching for a mid-volume, high or low volume PCB assembly manufacturer, we are definitely up to the task of over-delivering.
Affordable PCB Assembly Services
JingHongYi PCB (HK) Co., Limited has managed to structure its services for all and sundry. This is because its mid-volume circuit board assembly services are of the lowest price. We have the most competitive pricing structure in the industry. Imagine paying less and still getting the best of PCB assembly services. There is no need breaking the bank or putting a hole in your pocket to hire a company that can meet your pcb assembly needs. This is because JingHongYi PCB (HK) Co., Limited is the right choice.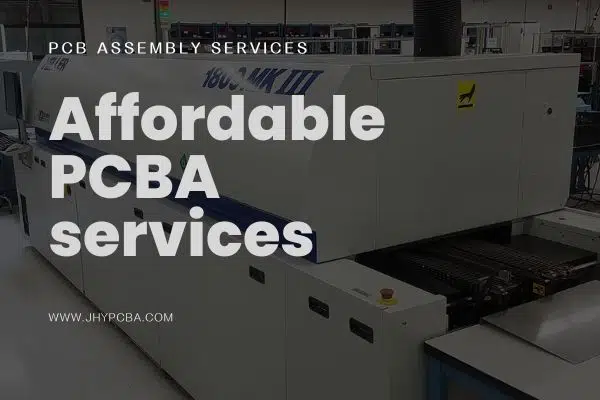 Our World-Class PCB Assembly Support Team
JHYPCB is existing to ensure you are getting nothing but the best PCB assembly services. Do you have any question to ask about our process of mid-volume PCB assembly? The good part is that we have one of the most responsive support teams around. Be rest assured that your enquiries will be responded to within few hours.
JHYPCB's capabilities in medium volume PCB assembly
With advanced PCB assembly equipment, excellent assembly and testing capabilities, and an experienced technical support team, we provide customers with excellent mid-volume PCB assembly services. The main objects of our medium volume assembly service are:
Marine
Electronics
Medical products
Automotive
military
Nuclear
Feel free to message us on anything you do not understand about our services. It could be based on specifications, minimum order quantity, testing procedures, etc. We will be glad to explain such in very clear detail. Contact us today to get started.